We cleaned the attic.  We cleaned the store rooms. Prices set very low, but NO coin denominations! So, $1.00 buys two or five or ten of something. Please be kind and bring small denomination bills. See
http://tinyurl.com/ChurchYardSalePDX
for over 100 detailed pictures!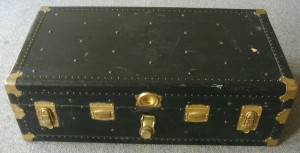 Lots of items:
Board Games
Craft Supplies
Sewing supplies
Complete Sewing Machine in Cabinet
Art Painting supplies
Random items
Old Tech: Mimeograph, IBM Selectric, PA Amplifier, Kodak Carousel Slide Projector
Household fixtures, furniture
Clothing
Curio/Vintage Furniture: Teachers Desk, Travel Trunk
Wedding Dress
Children's Group Game "parachute"
The following is a detailed list of items and prices:
————————————————————
Complete Games:
Games: $1.00
Crossword/Dominoes [new game with combined traits], Scrabble brand.
Mahjong (a.k.a. majiang or mah jongg), complete set plus a few extra tiles, 1973
Dominoes, complete 28 pieces, circa 1960s
Tic Tac Toe/Bingo/Tiddly Winks, plastic and cardboard pieces for all three games, 2003.
Chess/Checkers/Backgammon, three incomplete sets combined into one.  Plastic, cardboard.
Tri-Ominoes, "The Classic Triangular Domino Game", Special Friendship Edition, TWO sets, one blue and one white.
Rummy Royale – Vinyl " cloth" with rummy table pattern.
Jumble, "That Scrambled Word Game", 1974
Magic Eight Ball, Board Game, 2001
Bean Bag Toss, fabric and Plastic, 1997.
Guess Who?, Face Guessing Game, card game, plastic player "board/mechanism" for two.  No instructions.
Sesame Street Alphabet Card Games, eight games, 1998
Trivial Pursuit – Pocket Player Edition, Cards and plastic handheld devices.
Sorry!, traditional board game, 1998
Boggle Master, "Three Minute Word Game", complete with pieces and sand timer, 1973.
The Game of Life, 2000.
Uno Stack, Uno combined somehow with Jenga-like tower building, 1994
Password, 22nd edition, Includes all parts (sand timer!), 1982
Rummikub, Rummy Tile Game.  No instructions, 1992.
Hangman, "Word Guessing Game", plastic clamshell player "boards", 1988
Yahtzee, 1996.
Skunk, a game with plastic die and plastic chips.
Playing Cards, fresh, wrapped, count = 5
Games: $2.00
Parcheesi, Gold Seal edition, 1967
Cranium, complete with sand timer and clay.
Monopoly, Includes all Pewter tokens.  No Money, so photocopies offered as substitute, 1999.
Games: $5.00
Portland [a very Monopoly-like game].  Great condition, circa 2000.
Complete Educational Games:
Complete Educational Games: $1.00
AC/DC, "The Exciting Electric Circuit Game", card game, 1975
Court In Session Board Game, Teaches Constitutional Law, High School level, 1975
Predator, "The Forest Food Chain Game, card game, 1973
Smath, "The Game that Makes Math Fun", 2000
Pit, A commodities trading game with working bell (think teacher's desk bell).  No instructions.
Complete Educational Games: $5.00
Speak and Math – Texas Instruments electronic math teaching tool
Incomplete Games:
Incomplete Games: FREE
Cooties, "Game Toy", 1982.
-incomplete, Only a few plastic pieces
Roll-A-Word, "The Fast Thinking Category Game", 1992
-missing die and instructions
Uno Dominoes, Only 36 of 81 pieces available, 1989.
Clue – box and board ONLY!!  Everything else is missing.
Incomplete Games: $1.00
Battleship, Two sets combined,
-missing one small ship, but extra bigger ships to substitute.
-Many extra hit/miss red/white plastic pins
Marvelous Marbles, Glass Marbles of varying sizes and types. Booklet of traditional games, 1994.
-Missing 13 out of 106 marbles.
Double Track, board game,
-support pieces only for 3 of 4 intended players
-missing dice
$2.00
All Plastic, Child Safe, Yard Games –
Horseshoes
Mini-"frisbee"
Velcro "mitts" and "ball"
Colored Chalk – four boxes
Carrying Bag
$2.00
Badminton/Volleyball set.  Two shuttlecocks.  One volleyball.  Two air pumps.  Four rackets.  Plus an EXTRA four mini-rackets.  Vinyl carry case, but zipper broken.
$20.00
Martin Multi-Colored Nylon Parachute with handles.  24 feet diameter.  Like the mythical fireman life nets, BUT NOT for people. Only balls are to be used in the center.
For Example Pictures See any Internet search on: Martin 24 ft Nylon Parachute
$3.00
"Electric Putting Partner", the "Oscar Jr.", AC powered, with auto ball return–a form of office entertainment for either a "Mad Men" Don Draper or "Bewitched" Darrin Stevens..
$1.00 for 2 pair
Mittens
$1.00 each
Knitted Bears
$1.00 for 10!
Small or Gift Wicker Baskets – Easter basket or gift basket styles
$5.00 each
Wedgwood Bullfinch Plates
$2.00
Currier Ives "The Old Grist Mill" plate
$1.00 for 5
Glass vases, common, indoor or outdoor
$1.00 for 5 pieces
Flatware
$1.00 for 2
Gardening Books
$1.00 for 2
Metal Tins (cookie or fruitcake)
$1.00 for 4
Candles
$1.00 for 2 pair
Knitting Needles
$1.00
Polished stones
$1.00
Polished glass baubles
$1.00 for all of one size
Real Shells, small
Real Shells, Medium
Real Shells, Large
$2.00 for all (around 30 or so)
Hardboard Squares, clean, many 11in x 12in, others in unusual shapes
$2.00
Tri-Chem Liquid Embroidery Set, Partially used tubes with Sealed tin storage container
$1.00 for three SMALL bottle equivalent (i.e., 6 half full bottles, 9 1/3 full bottles …)
$2.00 for three LARGE bottle equivalent
Acrylic Craft Paints, partial bottles, wet and powder
Washable Craft Paints, partial bottles
—————————-
$1.00 for ad hoc "bundle", customer may mix/match …
Fabrics, craft, (small projects or quillts)
Ribbons
Linen
Blanket "Fill" material
Yarn – knitting and macrame
Small craft pieces–really random stuff
Wood Popsicle Sticks and Tongue Depressors
Fabric Cardboard Cutting Board
—————————-
$1.00 for 2
Fabric Craft magazines and books
$1.00 all
Teaching Cassette Sets
Einstein's Theories
Comedy
Economics
———————————————
Tech
$5.00
PA (Public Address) Amplifier 35 watt – Radio Shack MPA-35A, 32-2027
Includes one (1) working Vintage microphone
Includes one (1) broken (parts only) modern microphone
Adequate for practice electric guitar
Monophonic with two microphone mixer
Works, but with a bit of hum and distortion.
This is an older unit with discrete components that can be tested and replaced by someone with hobby-level electronics knowledge.
$5.00
Kodak Slide Carousel Projector, mechanically sound, Lamp works
with about 11 extra carousels
$2.00
Mimeograph supplies (No machine)-Vintage
Two full cans A B Dick ink
One full bottle "Indian" ink
Rollers, trays
Manuals
$2.00
Mosaic Supplies
Ceramic Tiles, whole
Ceramic Tiles, broken
Grout, three containers
$1.00 for all 6
Music Stands, student folding, Count = 6
These are tarnished/oxidised, not attractive
Completely functional
$1.00
Tripod Presentation STand, Aluminum, Missing piece to attach shelf
$2.00
Vintage Mulnomah County Ballot Box with period signs and paperwork
It's just a plywood box, but it is also a piece of history in a state with only mail-in voting today.
$2.00 complete set
Church Wine Serving Trays, wood
$4.00 complete set
Church Wine Serving Trays, brass
$2.00 complete set
Church Offering Trays, wood
$4.00 complete set
Church Offering Trays, brass
$1.00
Purses
$1.00 all
IBM Selectric Typewriter ink ribbon, balls, manuals (NO typewriter)
—————————–
Household Hardware
$40.00
Sewing Machine
Sears/Kenmore, model 158.18023, with cabinet
$5.00
Christmas Table Linen – table cloth 84 x 63 inches, plus six matching napkins, all 100% cotton
$20.00
Wedding Dress
Montiq Creators Wedding Group, patterned mock pearl bodice.
Size 12
$2.00
"Slim Laundry Organizer" – three shelves with a basket each on wheels, plus laundry bag
$10.00
Ricardo "Beverly Hills" Suitcase, style model 1828, wardrobe size, framed fabric, wheels & handle.
$1.00
Venetian Blinds 4 or 5 units, 5 ft, 7 ft, bamboo, plastic and metal
$3.00
Outdoor Wall Sconce Light, Victorian style, two lamps (candle-style), 60 watts/lamp.
$3.00
Indoor Glass Chandelier, six lamp, metal and glass, ~30 inch diameter
$2.00
Very, Very Heavy Duty mounting bracket for flat UHF antenna (No antenna!)
Nuts, Bolts etc included
This could support a flat TV or other heavy item.
$1.00 for three pair
Work Gloves, fabric, leather, or rubberized
Over 20 pairs to select!
——————————
Furniture
$20.00
Teacher's Desk.
34″ deep x 60″ wide x 30″ high
$20.00
Vintage Travel Trunk, traditional black with brass fittings, wood interior
Locking Latch bent from forced entry, but can be repaired.
$5.00 for the pair
Mosaic End Tables
Free, but MUST collect by
4:00PM
of sale day!!
Couches count = 2
Ottoman 26 x 44 inches
—————————–
Clothing
$1.00 for 2 pieces
Knitwear
$1.00 for 2
Scarves
$1.00 for 2
Sweaters
$1.00 each
Large Mens Shirts and Pants, casual dress, long sleeve
Nice condition, Dockers and simlar
Pants: 40w x 30L,  44w x 3?L, 42w x 32L
Shirts: 2XL, Tall 18 with 37-38 sleeve