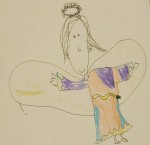 Hark! Herald the Angel Sings!
Community Christmas Eve service, Monday, December 24th, 7:00pm
For all ages, everybody welcome! Please join us for traditional readings and carols, a pageant about "Herald the Angel" that all children are welcome to participate in, and "Silent Night" by candle light.
This event is free. An offering will be given during the service to support the church's ministry in the neighborhood.
After the service, which is around 45 minutes long, there will be cookies and refreshments available for Santas and little angels alike.